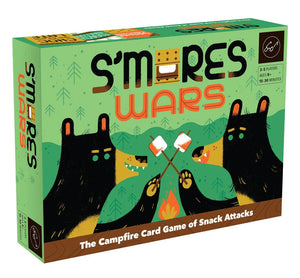 S'mores Wars The Campfire Card Game of Snack Attacks
Regular price $19.95 Sale
A sweet and sticky game for the whole family!

S'mores Wars is a fast-paced, competitive, card-drafting game of cute food with a dark twist. In a race to collect the perfect s'more, you must pick marshmallows against your opponents' to squish, chomp, and toast them—before yours are smashed themselves!
3–5 players battle for best ingredients to create the s'mores with the highest scores. In the end, the player with the most points wins the S'mores Wars!

If you like playing rock-paper-scissors or the card game War—or enjoy eating s'mores—you'll love this game!

• Ages 8+, 3–5 players
• Quick and easy to play and replay (games last 15–30 minutes)
• Contents: 25 Battle cards, 55 Ingredient cards, 20 round selection tokens, 5 Tiebreaker cards, 1 game board, instructions
• Perfect for fans of fast-paced card games like Go Nuts for Donuts, Slamwich, and Sushi Go! as well as strategic games like Exploding Kittens
• Packaged in a lightweight, travel-friendly box, this is a great portable game to take camping or on a family vacation—or play it at home for a fun yet competitive game night.

SIZE: 5-5/8" X 7-5/8" X 1-3/4"