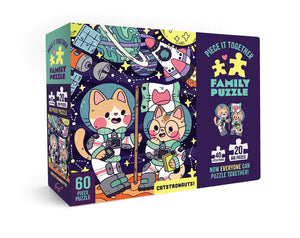 Piece It Together Family Puzzle: Catstronauts!
Regular price $14.99 Sale
At last, a puzzle the whole family can enjoy!

Twenty large, simple pieces make up half of this paw-some space cat scene, perfect for younger puzzlers honing their skills. Forty smaller pieces make up the other half, giving older siblings and family members more of a challenge.

• A great game for family time, holidays and vacations
• An all-ages activity perfect for everyone from toddlers to older children and adults
• Puzzles help cognitive development and foster teamwork.

Perfect gift for families!

Younger children who enjoy Mudpuppy puzzles, floor puzzles, and 24-piece puzzles will enjoy solving this transitional puzzle with friends and family.
SIZE: 9 1/2 X 7 3/4
Age 3+