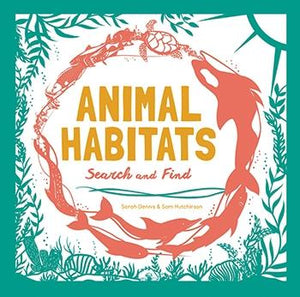 Animal Habitats Search & Find Activity Book
Regular price $16.95 Sale
Introduce young nature lovers to the wonders of ecology as they explore the earths most amazing and unusual regions colorful coral reefs, frozen polar seas, dense, leafy rain forests, and more and meet the unique animals that call them home.
In a world filled with marvelous creatures great and small, astounding discoveries can be found in Sarah Dennis enchanting, intricate cut-paper illustrations.
Readers learn how food webs sustain incredible birds, beasts, fishes, and insects and the ingenious ways that plants and animals adapt to the varied ecosystems of our diverse planet.
BY SAM HUTCHINSON ; ILLUSTRATED BY SARAH DENNIS
PUBLICATION DATE:
08/27/2019
AGE RANGE:
AGE RANGE: 6 - 9 YEARS